About Origin Technical Productions
Location
Origin Technical Productions (OTP) is based in Didcot off the A34, ten miles south of Oxford in the Thames Valley M4 corridor. The company is ideally located to enjoy easy access across Oxfordshire and the surrounding counties of Berkshire, Buckinghamshire, Wiltshire, Gloucestershire and Hampshire; and east along the M4 to central London.
Service sectors
Much of OTP's work is based in the outdoor entertainment events sector, but it also serves corporate events and conferences along with private events including private parties and weddings, providing covered stages, staging, PA, lighting, AV and power distribution equipment. OTP also offers extensive dry hire equipment listings across these categories and is probably the leading Oxfordshire hire stockist for LiteDeck staging, stage drapes, truss and rigging accessories.

Specialising in complete event technical production, OTP carries a large stock of production equipment in its warehouse enabling it to operate most jobs entirely within house with known and well-maintained kit; with the added reassurance to the customer that a supply of backup equipment is also readily available if required.
Qualified and experienced
All key engineering crew are technically and academically qualified in event technologies and include sound engineers, lighting engineers and electricians. OTP crew are also widely experienced with both private and public live events, many having worked in the industry for many years on high profile events including Glastonbury Festival and conferences for companies including Facebook and Barclaycard.
Production standards
OTP is fully aware of the production standards required to make events a success at every level and strives to apply the highest possible standards to all that it does; building a reputation on this basic but vital principle with industry peers who now sub-contract specialist aspects of other high-profile events to OTP.

In October 2011, OTP was chosen to supply all the main staging, presentation set and VIP platforms for the Royal Wootton Basset renaming ceremony, an event broadcast live on the BBC and attended by HRH Princess Anne. In May 2012 OTP was chosen as the sole event supplier for Her Majesty the Queen's Jubilee visit to Richmond Park; supplying sound, lighting and staging for multiple venues and performers including members of the Royal Ballet School.
Creativity
OTP prides itself on its can-do problem-solving attitude and, in close association with Peter Cox Design Studio, it also has direct access to creative graphic, aesthetic and engineering design skills; giving it an edge when it comes to visual concepts, creative technical solutions for set and props construction; and other custom builds.
Production highlights
Oxford Fashion Week, 2014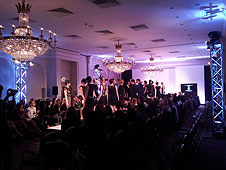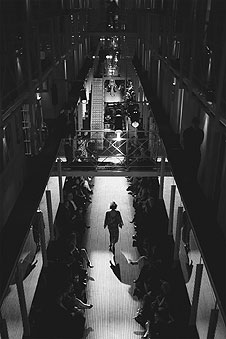 OTP was pleased to be sole production supplier to Oxford Fashion Week 2014, providing technical production, staging, set, lighting and PA across the four headline shows in Oxford venues, each requiring a bespoke build.
"OTP delivered extraordinary results in sensitive locations. The whole team were responsive, flexible, professional and a pleasure to work with. We particularly valued the level of thought that went into how to maximise the impact of our budget to give our guests and customers the best possible experience. We were delighted with the results."
Carl Anglim, Director,
Oxford Fashion Week
Cable Car set props, 2013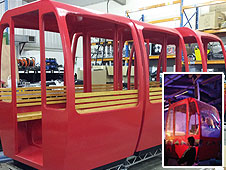 "We need three full-size cable cars for an Alpine party set; can you help?" was the question. "Yes, we'll build you some!" was OTP's response. A month later three gleaming red sit-in cable car props were delivered to site, complete with suspension arms and glazing (inset).
C&PRR Platform 4, 2013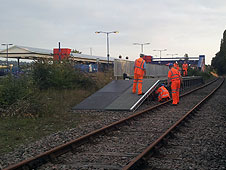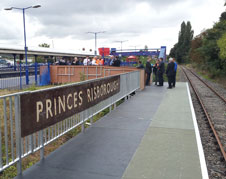 OTP thrives on unusual production requests and building a temporary railway platform has to rank as one of the most unexpected! Creating Platform 4 at Princes Risborough was part of a series of combined celebratory events by the Chinnor & Princes Risborough Railway involving the temporary reopening of a route between Princes Risborough and Chinnor.
"We couldn't have found a more professional and pleasant team to deliver Platform 4 for us if we had tried. Not only did you step up in our hour of need, you interpreted our requirements perfectly, met our timescale and budget, executed the delivery without any fuss and we all had a great time working with you to make it happen. A top job and I'd have OTP back to do it again, any day."
Claire Conway-Crapp, Project Manager and Director of Stategy,
C&PRR
Richmond Jubilee Concert, 2012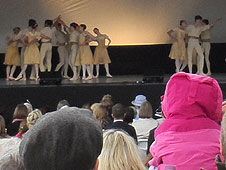 Following submission of a detailed technical proposal OTP was selected as the sole event supplier for the Richmond Park Jubilee Concert which included a performance of members of the Royal Ballet in the presence of Her Majesty The Queen.
Wootton Bassett staging, 2011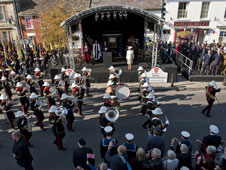 Working with South West Group, OTP was proud to supply the stage, unveiling set and VIP seating platforms for the Wootton Bassett renaming ceremony.
Oxford Castle Summer Concerts, 2010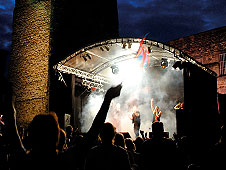 OTP provided staging and production for two weeks of summer night concerts at Oxford Castle.
"Reliable, professional, and easy to work with Origin Technical Productions are a competent, enthusiastic, well-turned out, and hard-working team; A delight to work with."
Sarah Mayhew, Marketing and Events Officer,
The Osborne Group / Oxford Castle Limited